This weekend, as the world watched the crowning of Miss Columbia as The New Miss Universe at the Trump National in Doral, Florida, we, at Natural Impressions Design were thrilled to have created the invitation that invited guests to a very special baby shower for Former 2003 Miss Universe, Amelia Vega Horford and her Atlanta Hawks Basketball player husband, Al Horford.
Held at the Mandarin Oriental, in Atlanta Georgia, Natural Impressions Design's Branding Designer, Marilyn Martinez, teamed up with Tutti Bambini Events and Amelia to create a custom contour, white acrylic baby shower invitation. The invitations invited guests to help the couple celebrate the expected arrival of their little "Knight in Shining Armor."
The uniquely shaped invitation, featured baby blue silk screening of the royal design and wording. A custom Natural Impressions Design faux Wax Seal finished off the royal look.
For the baby shower, Natural Impressions Design created a fabulous Mirror trimmed and Amethyst Menu accented by the Glitter Damask Belly Band, featured in the BLING Album Collection (Item #BL-1312).
We wish Amelia and Al all the very best for them and their little "Knight in Shining Armor!"
We look forward to teaming up again with Tutti Bambini Events on Friday, February 6, 2015 at Miami's Ultimate Baby Affair 2015 presented by Tutti Bambini (MUBA 2015). Join us, as Natural Impression Designs unveils its NEW Luxury Baby Stationery Collection and our exclusive Custom Designed Stationery for every momentous event life has to offer!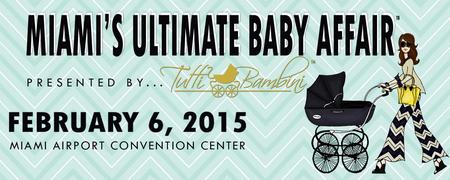 Call 877.408.8863 or 305.661.0999 to place an order or to speak to a customer service representative or click here to Contact Us.
<
p style="text-align: center;">Stay connected and see more designs on Facebook and Instagram.